Hello,
I'm Dr.Thurman; I would like to thank you for taking time to visit my website and giving me the opportunity to introduce myself and staff.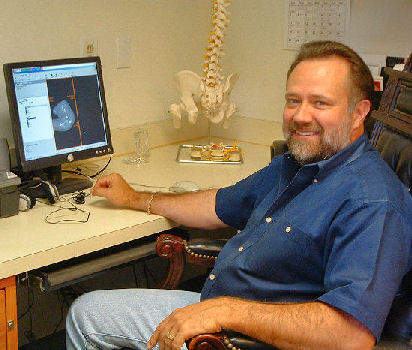 I was born and raised in Clarence, Missouri; graduating from South Shelby High School in 1974. I earned a Bachelors of Science in Biology from Truman University in 1978, then my doctorate from Logan Chiropractic College (Chesterfield, Missouri) in 1981. I have also become certified in acupuncture and trained in orthopedics, neurological and radiology evaluations.
In 1981 I opened the Chiropractic Clinic in Ballwin, Missouri, a multi-doctor, multi-disciplined facility. We focused on the treatment of neuro-musculoskeletal injuries and conditions. During this time I enjoyed hospital privileges and worked closely with medical, physical therapy, radiological and other chiropractic professionals. Numerous times I have been requested to provide expert testimony regarding body mechanics and injuries through trauma and disease in the classroom and in court room situations.
In 2001 I had the opportunity to sell my practice in Ballwin, allowing me to focus on helping my wife raise our three young boys. It was a direct blessing from God and for this I am truly thankful. However, I too believe God called me to help people, which is why we opened the Chiropractic Rehab Clinic when we moved back home. When we moved back from St. Louis, it was my family which encouraged me to go back into practice. With the blessing of my wife, children and family we tackled this endeavor and it has been extremely successful.
I do my best to live by the philosophy good returns good. My life works best when I put priorities into a sequential order God, myself, my wife, my family and then my business. I never want anyone to endure pain needlessly, so I will do my very best to make my facility available to each and everyone of you on a personal level.
This is a group effort here at our Clinic. I cannot do this by myself and presently we have a wonderful staff dedicated to fulfilling your health care needs. We know in the healthcare arena many times the ball is dropped and sometimes the patient falls through the cracks. We do our very best to make sure this doesn't happen and I am sure on occasion it has and will, but we do our best to follow up on every situation so this does not happen. We also work very closely with other health-care providers to hopefully refer you to the provider you need and get to the root of your condition. Chiropractic is not a panacea [cure-all]. Many Chiropractors believe they can cure everything with Chiropractic. This is not my philosophy, and why I do my best to have a healthy relationship with all health-care providers for your needs and at your disposal. Since 1981, I have learned the most important issues for patients are follow up and follow through. If we cannot help you with your condition, we will get you to the correct facility that can, in a timely manner. There's also very little waiting at our clinic; we try to fulfill our commitments and agreements and see patients on time. Your time is valuable, just as ours is.
Again I thank you for your time and hope you will give us the opportunity to serve you.
With Respect and Integrity,
Dr. T. Thurman and Staff